Bro. Christopher Reid. Senior Deacon, London Rifle Brigade Lodge No.1962 shares the very personal story of his father Pat Reid and his heroic escape from Colditz.
Most people who have heard about my father, Pat Reid, will have known him through his successful books, film and BBC series relating to escaping from Colditz Castle in Germany during the second world war. Few will have known him with any intimacy. He was, in fact an emotional, empathetic and shy man, full of wisdom, kindness and loyalty. At the same time, give him a glass of wine and he was the fun of the party and engineering the next prank.
On 13 November 1910, in Ranchi India, Pat, my father, was born as fifth child to John and Alice Reid. Halley's Comet trailed the skies at the time and later on he was to be told by his parents that sages had predicted he would see the next appearance of Halley's Comet in 1986. At an early age he was sent to Ireland to St. Dominic's and later to Clongowes Wood School. During most of his early childhood years he saw little of his parents and communication was entirely by letter. Only when his Dad's forced retirement occurred due to health reason in 1922, after 25 years of service in the India Civil Service, was the family to be together again as a family unit. Returning to Ireland had been discarded, for the time being, due to the ongoing civil strife there and furthermore the fact that Alice Mable was very English could have possibly made her less welcome there. Pat's parents were new to the experience of living in England. India had had all the comforts of an expatriate privileged lifestyle and coming back to their living off an ICS pension was a very different set up. After studying at Wimbledon College, my father was admitted with a scholarship to Kings College and graduated as an engineer in 1932.
He branched out from mechanical engineering into civil engineering working for Sir Alexander Gibb & Partners from 1934 to 1937, and becoming an Associate Member of the Institution of Civil Engineers in 1936. (AMICE)
My father joined the Territorial Army in June 1933 and was commissioned as a Second Lieutenant on the General List. Two years later, he joined the Royal Army Service Corp (RASC) with the same rank on 5 June 1935. He was promoted to Lieutenant exactly three years later on 5 June 1938.
Only on 24 August 1939 was my father mobilised into active duty. He served in the 2nd. Infantry Division, receiving promotion to Temporary Captain on 1 December 1939. On 27 May 1940, while serving as a member of the British Expeditionary Force during the Battle of France, he was captured by the Germans near Cassel. He was sent to a prison of war (POW) camp in Laufen, Bavaria designated Oflag VII-C, arriving there on 5 June 1940.
Determined to return home by Christmas, my father was already planning an escape, within days of his arrival. After seven weeks digging, Reid and a group of prisoners completed a tunnel, 24 feet (7.3 m) long, from the prison basement to a small shed adjoining a nearby house. At 06:30 on 5 September 1940, they all broke out and made for Yugoslavia, only 150 miles away. However, after five days the escapees were recaptured in Radstadt, Austria. Reid was sentenced to a month of solitary confinement, on a diet of bread and water.
As one of the "Laufen Six", he was then sent to Colditz Castle, designated Oflag IV-C, a special "escape-proof" camp, arriving there on 10 November 1940.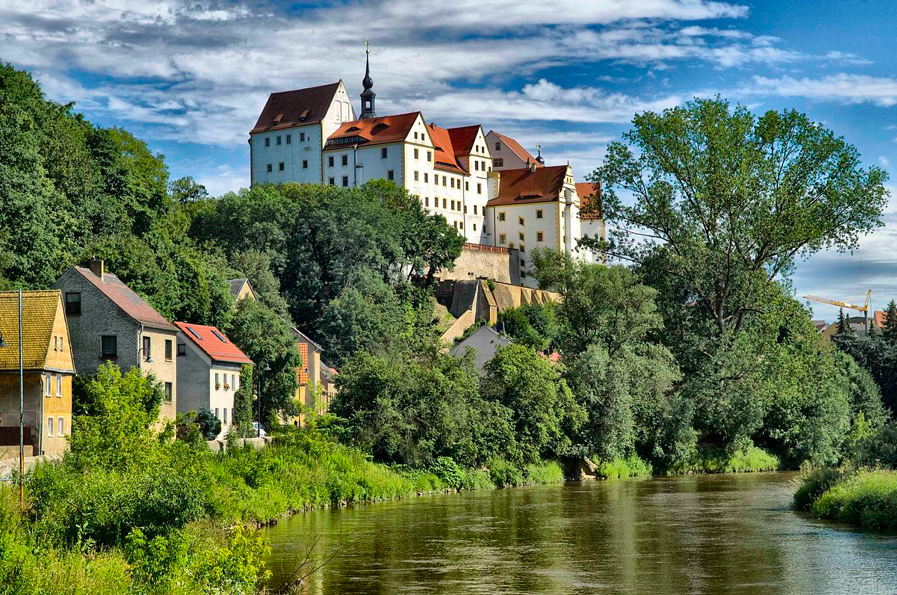 It was not long before Reid attempted an escape. He bribed a seemingly willing German guard to look the other way. On the night of 29 May 1941 twelve prisoners crawled through a sewer pipe from the canteen to an outer courtyard, planning to then descend a forty-foot wall, and then over another wall 12 feet high wall topped with barbed wire. However, although the guard had accepted the bribe, he also reported the escape plan to his superiors, and the Germans were waiting for them. After another spell in solitary, Reid accepted the position of Escape Officer, responsible for overseeing all British escape plans. Reid assisted in many escape attempts, some successful, until April 1942, when he was replaced as Escape Officer by fellow member of the "Laufen Six", Captain Richard Howe.  

Reid finally took his own chance to escape on the night of 14/15 October 1942, along with Major Ronald Littledale, Lieutenant Commander William (Billy) L. Stephens, RNVR and Flight Lieutenant Howard Wardle, RAF. They cut through the bars of a window in the prisoners' kitchen, and climbed out onto the flat roof of the German kitchen. They then crossed the brightly lit outer yard, and avoided being seen by a guard. They entered a storage cellar under the Kommandantur(Commandant's HQ), pushed and pulled themselves out through a narrow air shaft leading to the dry moat, and exited through the park. They split into pairs, with Reid and Wardle disguised as Flemish workmen travelling by train to Tuttlingen, near the Swiss border. False documentation had been carefully prepared prior to their escape. They crossed the border near Ramsen in Switzerland on the evening of 18 October after darkness set in. They did not want to be accosted by German, let alone Swiss border guards as they had been warned that the latter could return them back to their German counterparts. Another danger which needed to be understood, was that the Swiss border around the Schaffhausen area is a real labyrinth; it is easy to walk into Switzerland and walk out again. Maps of the various escape routes had been smuggled into Colditz in Red Cross parcels inside records and other items. Stephens and Littledale also travelled to Tuttlingen by train but via a different route. They followed Reid and Wardle across the border in the early hours of 20 October 1942. 
Pat Reid remained in Switzerland until after the end of the war, serving as an Assistant Military Attaché in Berne from 9 March 1943 until early 1946, and receiving promotion to Temporary Major on 1 November 1945. He was unusually discreet about his duties there, and was in fact working for the Secret Intelligence Service (MI6) gathering intelligence from arriving escapees from all over occupied Europe. Little has been written about this period of my father's life, albeit its significant importance to the allied war effort. Throughout the Second World War Berne became the capital of espionage where the Germans, and the Allies were very active along with the Swiss playing a "balancing act" between the powers. My father met my mother for the first time during a cocktail party hosted in Wengen by Gardner Richardson from the American Legation in Berne and whose wife was my great-grandmother's first cousin. This led to the fact that my mother along with her mother and grandmother were all invited to the same occasion where the "hero" escapees were present. My mother returned to a secretarial job in Berne in early 1943. My father was taken on as assistant military attaché working together with the British Military Attaché, Colonel Henry Cartwright. My mother was hoping to be offered a job by Allen Dulles from Washington who had come to Berne in late 1942 to direct O.S.S. operations in Switzerland. Instead, he recruited an Irish women recently arrived from Lyon who had worked for the German consulate before the war. She had managed to escape to Switzerland and was promptly made part of the network of people working for the allied war effort in Berne. Another important personality part of the British Intelligence was Air Commodore Freddy West who became an important counterpart of collated information prepared for the High Command in the UK and worked in tandem with British Military attaches. My father later on wrote his biography, called "Winged Diplomat", published by Chatto & Windus. Pat Reid's work in Berne was much appreciated by his superior officers. During Field Marshall Montgomery's visit to Switzerland in1946 he was summoned to be part of the diplomatic organisation and reception committee. Few people know that the famous Field Marshall arrived in Hitler's train in Zweisimmen, a little village in the Bernese Oberland. There he changed trains to a smaller gauged mountain track to travel to Gstaad for his holiday, leaving behind Hitler's carriage which he never set foot in again. In Zweisimmen both my father and mother were there to reception him and assist him changing trains. They further accompanied him with the entire Diplomatic legation in Gstaad.
Reid officially left the army on 29 March 1947, but remained a member of the Regular Army Reserve until reaching mandatory retirement age on 15 November 1965. On that day he was awarded the honorary rank of Major.
My father served in the British embassy at Ankara in Turkey as First Secretary (Commercial) from 1946 until 1949, then as Chief Administrator for the Organisation for European Economic Cooperation OEEC in Paris until 1952.
The same year he returned to England to farm and write his first books. My father enjoyed the writing and later on assisting with the Colditz Film. Between 1959 and 1963 he went back to his prewar career in civil engineering and served as a director of the construction companies Richard Costain Ltd. and afterwards with the consulting engineers W S Atkins & Partners. He also dabbled with politics during this period of his life.
In the early seventies, he was once again bought to the forefront of British popularity when the BBC undertook the Colditz Television series. He was often invited to lecture on Colditz and would cart around with him photos, models of Colditz and general memorabilia. He invented the Colditz game which can still be found in specialized toy shops.
My father only had children by his first wife, Jane Rush Cabot. He was a doting father and I still remember his bedside tales as a child. He talked about the yellow peril that our younger generations would encounter, he also told us about the terrible tragedy of the white Russians returning to Russia after the second world war.
During his autumn years he participated for a number of times as Bursar on the Sailing Training Association's Yachts, the 'Winston Churchill" and "Malcomb Miller". He loved the sea and thoroughly enjoyed the opportunity to sail with the younger generations. Later he wrote a book about these voyages which he unfortunately never had published.
My father's early family background had a strong influence on him throughout his life. His ambitions and dogged determination coming from his Irish farmer father who had managed to become part of the elite civil service in India and with his elegant manners, accent and gallantry coming from his mother who was from the best of British Indian society of the time. This mixture was, I am sure difficult for him to manage on occasions.
For his "gallant and distinguished services in the field" during the Battle of France, he was awarded the Military Cross in 1943, and was made a Member of the Order of the British empire (Military Division) on 20 December 1945 in recognition for his exceptional work for the Allied war effort as Assistant Military Attaché in Berne.
Bro. Christopher Reid. Senior Deacon, London Rifle Brigade Lodge No. 1962
February 2021