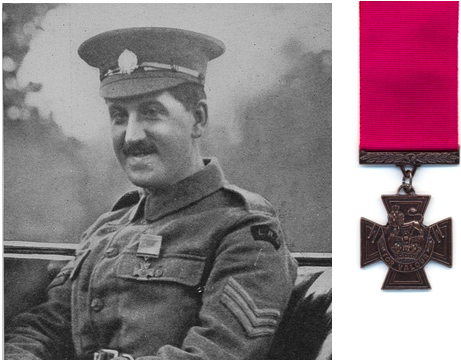 Douglas Walter Belcher was born on the 15 July 1889 at Surbiton, Surrey and was educated Tiffin's Boys School, KingstononThames. Belcher was later employed by Waring & Gillows, Oxford Street, London and shot on their rifle range. Although his main interest was the Territorial Army, he was also a keen sportsman, being interested in swimming, rowing, tennis and cricket.
Having joined the cyclist volunteer force in 1906 he transferred to the Queen Victoria Rifles in 1908 and won a silver cup in a shooting competition.
At the outbreak of WWI Belcher joined the London Rifle Brigade and as a Lance Sergeant with the Regiments 1st Battalion he was sent to France, where, for his actions on the l3th May, 1915, near to Ypres in Belgium, he was awarded the Victoria Cross. The London Gazette of the 23rd June, 1915, stated: "Douglas Walter Belcher, No.9539, L. Sergeant, 1/5th (City of London) Batt'n The London Regiment, (London Rifle Brigade). Date of act of bravery, l3th May, 1915. On the early morning of l3th May, 1915, when in charge of a portion of an advanced breastwork south of the Weiltje St.Julien Road, during a very fierce and continuous bombardment by the enemy which frequently blew in the breastwork, L/Sgt. Belcher, with a mere handful of men elected to remain and endeavour to hold his position after the troops near him had been withdrawn. By his skill and great gallantry, he maintained his position during the day, opening rapid fire on the enemy, who were only a 150 to 200 yards distant whenever he saw them collecting for an attack. There is little doubt that the bold front shown by L. Sgt. Belcher prevented the enemy from breaking through on the Wieltje road and averted an attack on the flank of one of our divisions".
He was the second member of the British Army's Territorial Force to receive the medal, Lieutenant Geoffrey Woolley having been first awarded it during the fighting at 2nd Ypres a few days earlier.
Belcher was also awarded the 1914 Star, the British War Medal, Victory Medal along with the Victoria Cross (which is today displayed at the Royal Green Jackets (Rifles) Museum in Winchester, Hampshire, England).
In 1916, he was commissioned as a Second Lieutenant in the 9th Bn., London Regiment (Queen Victoria Rifles). He was promoted to Lieutenant in 1917 and in the same year, at St. Mark's Church, Surbiton, where he had been a chorister, he married Emily Francis Luxford.
From 1918 to 1922 he was a Company Commander with the Gurkha Rifles serving in Mesopotamia and later in Burma.
Douglas Belcher retired from the army in 1922 with the rank of Captain but had suffered bad health after the end of the war.
Due to his lack of good health Belcher and his wife struggled to run their own business in Tunbridge Wells, and despite many setbacks they managed to keep it going. The shop was sold in 1933 and they acquired a poultry farm in Suffolk.
Belcher and his wife divorced in 1935 and in a well publicised case it appeared that Belcher's wife had taken into the Tunbridge Wells house one Reg Larkin who was subsequently named as corespondent, with Belcher himself being treated almost as "The Lodger" Belcher was granted custody of their two sons aged 9 and 17.
Belcher had been diagnosed as suffering from neurasthenia in 1926 and his state of health had been used as evidence when he had filed for divorce in 1935.
Douglas Belcher was active in the British Legion and Old Comrades association, the Tunbridge Wells Branch later being named after him. He worked as a clerkcommissionaíre for a firm of London accountants.
At the Ypres memorial service on Horse Guards Parade, London, on the 30th October 1938, he was photographed with Sgt. Boulter VC and L/Cpl. Wilcox VC.
At the beginning of WWII he was a rifleman in the London Rifle Brigade Territorials and was soon promoted Sergeant. After a fall he was invalided out in May 1940 and was granted the rank of Captain. In 1941 he married Gertrude E. Brine, of Surbiton, at St. Ethelburga's Church, London, and at this time Belcher was living at Villers Avenue, London. A guard of honour was provided at the wedding by the London Rifle Brigade and the National Defence Corps.
Douglas Walter Belcher died on the 3rd June, 1953, at Claygate, Surrey, aged 63 years.
Douglas Walter Belcher VC was Initiated into Arts & Crafts Lodge, No.3387 on the 4th March, 1916, but to date that Lodge cannot confirm that he was Passed and/or Raised with them.
Bro. Belcher VC was a Founder Member of the Hazara Lodge No. 4159 when it was consecrated on the 16th October, 1920, in Abbottabad then in India but now in Pakistan. He was the first Junior Warden and records state that he was Lieutenant with the 1/6th Gurkha Rifles stationed in Abbottabad. He resigned from the Hazara Lodge on the 31st October, 1922.
On Friday 26th November, 1937, Bro. Belcher VC became a Joining Member of London Rifle Brigade Lodge No. 1962 and whilst he did not take office, he attended regularly. His last recorded visit to this Lodge was on Friday, 15th October, 1948, and no reference is made in Lodge records of him being the holder of the Victoria Cross.
In February 1948, Bro. Belcher VC rejoined the Hazara Lodge, and by this time he was shown as also being a member of Amity Lodge No. 171. He was elected Master of the Hazara Lodge in April of that year and was installed in June. In 1951 he was made an Honorary Member of the Hazara Lodge No. 4159.
His exploits are included in the book 'Beyond the Five Points' The Masonic Holders of the Victoria Cross.
W. Bro Peter Hern PGStB
Treasurer and Charity Steward, London Rifle Brigade Lodge No. 1962.
February 2021